NIOSH TNB Safety Passport
TNB has implemented the NIOSH-TNB Safety Passport (NTSP) Programme to all its suppliers/contractors working at TNB sites which include installation, power station or TNB-owned or rented premises. Under the program, every personnel entering the sites are required to obtain the NTSP card through a one-day course conducted by National Institute of Occupational Safety & Health (NIOSH).
Programme Objectives
To cultivate the safety-first attitude
To provide basic OSH training necessary for contractors' workers on the recognition of hazards and risks present in TNB
To provide the knowledge on Occupational Safety and Health Act (OSHA) 1994 and its Regulations
Course Fee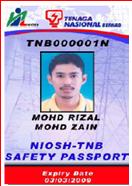 The course fee shall be borne by the supplier/contractor and paid directly to NIOSH.
Application Submission
Application shall be submitted to:
Institut Latihan Keselamatan & Kesihatan Pekerjaan Negara (NIOSH), Bahagian Keselamatan Pekerjaan, Lot 1, Jalan 15/1, Seksyen 15, 43650 Bandar Baru Bangi, Selangor Darul Ehsan
Tel: (603) 8769 2253/8
Fax:(603) 8926 8037
Email: [email protected]