1. What is the TNB SmartSaver TOU Pilot Programme?
This is a programme that is supported by the Ministry of Energy, Green Technology & Water (KeTTHA) through the Akaun Amanah Industri Bekalan Elektrik (AAIBE) funds. The programme's objective is to study the customer behaviour of Low Voltage (LV) Ordinary Power Consumers (OPCs) on the pilot Time of Use (TOU) service offering. The programme will run for six (6) months from May 2017 to October 2017.
2. Which customers are taking part in this SmartSaver TOU Pilot Programme?
The TNB SmartSaver TOU Pilot Programme is only available to customers who have had TNB smart meters installed in their premises before 2017.
3. What are the benefits to the pilot Programme customers?
TOU is a self-regulating tool for customers to control their electricity usage and bill. During the pilot Programme trial period (between May to October 2017), customers will be able to enjoy a rebate in monthly bills when they shift their consumption to Mid-Peak and Off-Peak hours, while reducing Peak hour electricity usage.
4. What will customers expect under the TNB SmartSaver TOU Pilot Programme during the trial period (May – October 2017)?
During the trial period, customers under the Pilot Programme will continue to receive and pay their normal bills. In addition, a SmartSaver TOU statement will be provided to these customers from June 2017 until November 2017 to inform them of any eligible rebates. Any rebates will be included as an offset in the customer's next electricity bill.
5. What happens if there is no change in the customer's consumption behaviour – will the bill go up?
TNB gives the assurance that customers enrolled on this pilot Programme will not have to pay any higher than their normal monthly bills.
6. How is the customer charged for electricity usage under this SmartSaver TOU pilot programme?
Under the pilot programme, a separate TOU statement will be computed based on different tariff rates at different times of the day. For example, tariff rates during Off-Peak period will be lower than Mid-Peak period, while tariff rates during Mid-Peak period will be lower than Peak period. The Off-Peak, Mid-Peak and Peak periods are defined as follows: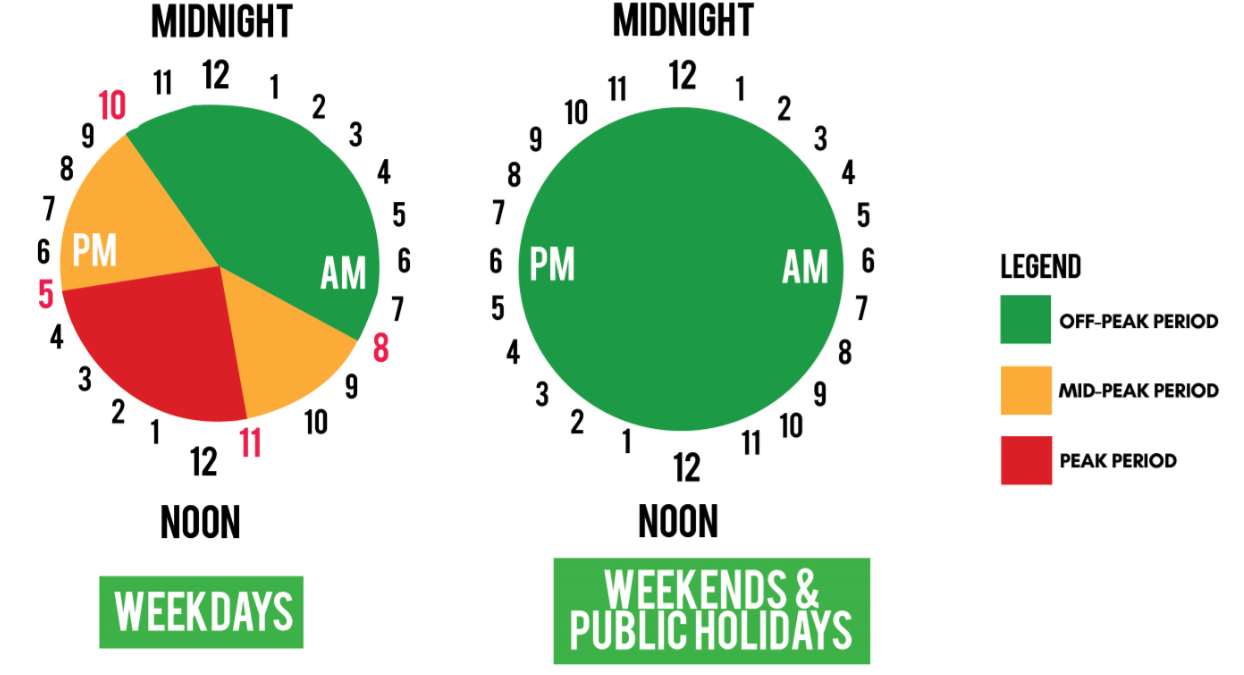 The TOU SmartSaver statement consists of two elements namely:
Smart Saver TOU Rebate (for eligible customers only)
SmartSaver Peak Reduction Reward (for eligible customers only)
The SmartSaver TOU Rebate is calculated based on the customer's electricity usage in each price period. A 'Premium' is charged for usage in Peak and Mid-Peak periods, and a 'Discount' is applied for usage in Off-Peak period.
A customer's usage in each price period is multiplied by the relevant Premium/Discount rate. If the aggregate of the Premiums and Discounts results in a negative value, the customer receives a rebate to this value. If the aggregate is positive, the customer does not receive a rebate, but also does not pay extra.
The SmartSaver Peak Reduction Reward is a monthly RM16 reward payable if the customer manages to:
1. Reduce their Peak Period usage by at least 5%, or
2. Reduce their Mid-Peak Period usage by at least 5% AND refrain from any increase to their Peak Period usage compared to their average usage before SmartSaver.
7. What are the rates for the Premiums and Discounts in the SmartSaver TOU pilot programme?
The Premium and Discount rates are as shown below:
| Period | Residential (Sen/kWh) | Commercial (Sen/kWh) |
| --- | --- | --- |
| Peak Premium | + 28 | + 18 |
| Mid-Peak Premium | + 8 | + 2 |
| Off-Peak Discount | - 8 | - 22 |
SmartSaver TOU Videos