Brightening surrounding communities
Brightening surrounding communities
Illuminating Our
Communities
In order to improve lives and quality of living amongst our communities, TNB equips them with the skills to sustain the environment and enhance their livelihoods.
Building Communities of STRENGTH
At TNB, we aspire to better the lives of surrounding communities by creating positive impacts and contributing to nation-building. Our investment in community programmes, initiatives, and activities help ensure that we are delivering meaningful change for our stakeholders and beneficiaries. These efforts are based on our three beliefs for community upliftment:
Economic And Social
We believe that capability, social, and community development supports liveability and enhances livelihood by uplifting the economic and social quality of life.
Environment
We believe that the future of our planet and next generation depends on our responsible behaviour today.
Education
We believe that education can transform lives of not just one individual but families and generations.

Economic And Social Transformation
We are driven to raise the standard of living of marginalised communities, as we continue to work towards sustainable development for all. Through the Home for the Needy Programme, we provide liveable spaces for underprivileged communities that have electricity, water, and proper sanitation. In collaboration with State Governments, the target beneficiaries from this programme include single parents, senior citizens and individuals with disabilities. Additionally, the Better Brighter Shelter (BBS) programme provides accommodation via dormitories and transit homes for families whose members are undergoing treatment in the hospitals.

Environmental Sustenance
We consider it our responsibility to promote environmental resilience for the benefit of the nation and future generations. As part of TNB's environmental stewardship, we have been carrying out conservation efforts to restore forest spaces. TNB Janamanjung Sdn. Bhd. (TNBJ) has been conducting an annual mangrove planting programme to improve the protection of coastal environments and encourage the production of sustainable fisheries in the Janamanjung vicinity. Since 2013, over 1,000 mangrove saplings are planted every year, totalling 9,200 saplings to date. TNB has also long promoted the conservation of firefly colonies in Malaysia. The success of the pilot project - in Kampung Kuantan, which has one of the largest firefly colonies in Southeast Asia - resulted in the expansion of locations to Kampung Yak Yah, Kemaman, Terengganu, Kampung Sungai Timun, Rembau, Negeri Sembilan and Kampung Dew, Taiping, Perak.
Transformation Through Education
Education is a key component of sustainable development, With that in mind, TNB makes significant investments into education through our own educational institutions as well as community programmes. Our education-related institutions are EduHub, which comprises UNITEN, LDC, and TNB ILSAS, and our foundation, Yayasan Tenaga Nasional (YTN).
UNITEN - The Energy University
Established in 1997, UNITEN is the jewel in the TNB crown. It offers opportunities to study in the field of engineering, computing and informatics, energy economics, and business management to both local and international students at the tertiary education levels. UNITEN has also been a hub for energy research given TNB's position in the electricity supply industry. In line with Reimagining TNB, UNITEN has developed a 10-year strategic plan of "Building Opportunities, Living Dreams 2025" (BOLD2025) to realise the university's aspiration to become a globally competitive, energy-focused university by 2025.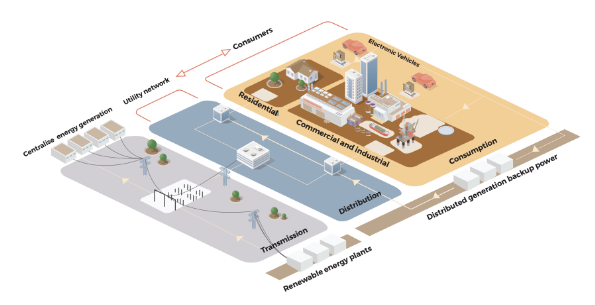 SMART ENERGY
Optimises energy consumption and efficiency within the campus and minimises environmental impact and carbon footprint.
SMART FACILITIES
leverages the use of intelligent systems on campus to control and manage quipment efficiently.
SMART MOBILITY
Aims to make transport intelligent, flexible and efficient.
SMART SECURITY
Enables the campus to be open to all and safe at all times with smart monitoring of indoor and outdoor campus areas.
SMART LIFESTYLE
Empowers students by enabling the use of technology in classrooms and other campus activities.
SMART EDUCATION
Enhances digital learning delivery methods using technology-enabled classrooms.