Delivering Sustainable value
Delivering Sustainable value
Staying Ahead of
the Energy Curve
As the world shifts towards renewable energy and digitalisation, and regulations change in tandem, we need to adapt to remain competitive
Reimagining TNB
'Reimagining TNB' is the strategic blueprint that will enable us to become a top 10 global electricity utility by 2025. Sustainability will play a key role in achieving our goal, while cost-effective and efficient business practises will guide us through current and future industry challenges. This will allow us to create value for our key stakeholder groups through maximised value distribution.
We are actively diversifying our local generation portfolio to meet current and future needs in a reliable, affordable, and sustainable manner. The generation mix in Peninsular Malaysia is a result of the optimal generation capacity development plan, which aims to strike a balance between economic, environmental, and energy security. On the international front, TNB has equity ownership in energy-related assets across strategic markets including Turkey, Saudi Arabia, Pakistan, India, and the United Kingdom (UK). Our portfolio allows us to expand our Renewable Energy (RE) generation and contribute towards achieving our RE installed capacity target of 1,700MW by 2025.
Turkey
GAMA ENERJI
ANONIM SIRKETI TNB Shareholding: 30%
Generation Capacity:
SAUDI ARABIA
SHUAIBAH INDEPENDENT WATER & POWER PROJECT (IWPP) TNB Shareholding: 6% Generation Capacity:

1,190 MW
---
WATER DESALINATION
Capacity:

1,039,000m3/day
pakistan
LIBERTY POWER LIMITED TNB Shareholding: 100%
Generation Capacity:

623 MW
INDIA
GMR ENERGY LIMITED TNB Shareholding: 30% Generation Capacity:
UNITED KINGOM
VORTEX SOLAR INVESTMENT S.A.R.L TNB Shareholding:50%
Generation Capacity:

365 MW
---
TENAGA WIND VENTURES UK LIMITED TNB Shareholding: 80%
Generation Capacity:
26.1 MW
Establishing Operational Reliability and Performance
Providing reliable electricity is a priority and a responsibility, and it is essential that our operations across the value chain perform smoothly and efficiently. The balance between our asset optimisation plans and Business Continuity Management (BCM) Framework is key to drive this agenda. That is how our existing systems have resulted in continuous improvement in our operational performance.
Energy is critical to national security, which is why our assets are classified as Critical National Information Infrastructure (CNII). To ensure this infrastructure is maintained and protected, we have adopted a holistic Asset Management Plan with ISO 55001:2014 Asset Management certification. It provides TNB with the roadmap to achieve the greatest value from physical assets by optimising cost, risk and performance across the asset lifecycle.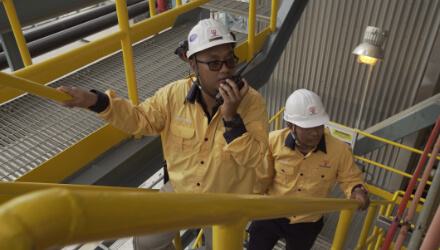 At TNB, our Business Continuity Management (BCM) Framework has been designed to provide a structured approach in managing business continuity in TNB Group. Our system enables us to respond decisively and effectively in a crisis, ensure continuity of essential services while protecting human life, and safeguard our assets and the environment.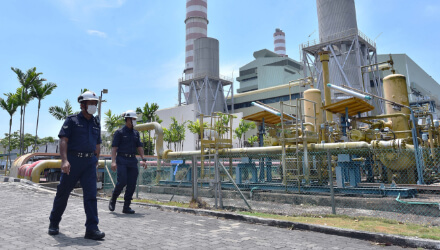 If there's one thing the past year has taught us, it's that we must always prepare for the worst. Every TNB power plant requires an ERP to ensure their resilience in avoiding disruption to the power generation business. The effectiveness of ERP is measured by the ability of the emergency management team to carry out a timely and appropriate response. All power plants are required to design, implement and conduct regular tests on the effectiveness of their ERP through drills against various plant-specific emergency scenarios.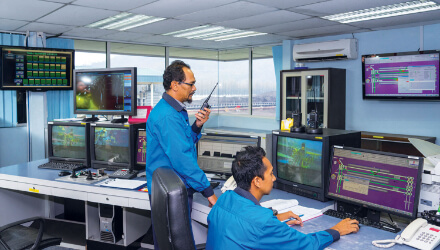 Cyber Security is vital to the uninterrupted power supply from our power transmission system. At TNB, our cyber security governance is designed to strengthen our defence against cyber threats, with committees specifically tasked to oversee policies, mitigation actions, and response plans. We are safeguarded by our Cyber Security Operation Model (CSOM) and are ISO 27001:2013 Information Security Management System certified. We conduct regular audits at the National Load Despatch Centre on relevant critical infrastructure.
Innovation and digitalisation are the watchwords to help us strengthen our business infrastructure and improve operational resilience. We are moving towards greater technology integration to deliver increased flexibility and develop products and services that are more accessible to our customers. The implementation of the Grid of the Future involves the digitalisation of our grid system to accommodate and meet emerging industry demands.

Digital Connectivity
Our improvements in digitalisation serve a dual function: improving our electricity infrastructure as well as enhancing Malaysia's telecommunication networks. In 2019, we completed the NFCP Pilot project at Jasin, Melaka to test the technical, safety, and security aspect of the open-access network and to assess commercial viability of the wholesale broadband business. The project enabled 1,100 homes with better broadband coverage with a speed of up to 1Gbps. We are also in partnership with telecommunication companies to leverage our network infrastructure and widen the coverage of broadband service nationwide.

Sustainable Supply Chain
A sustainable supply chain is a successful supply chain, upholding high standards of ethics, integrity, and transparency. TNB supports Malaysian suppliers and is instrumental in strengthening the local value chain ecosystem. We also support our suppliers through capability development for improved business performance and service delivery. Additionally, we collaborate extensively and provide technical and financial support.