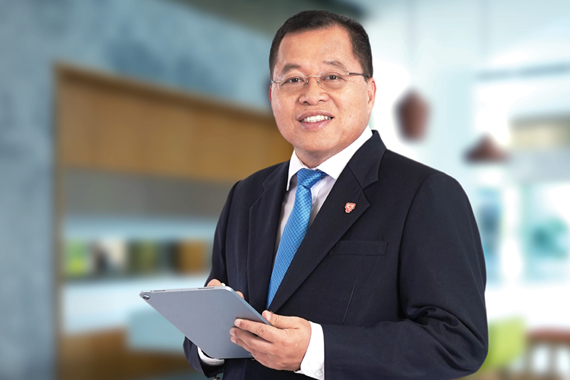 DATO' INDERA Ir. BAHARIN BIN DIN
President / Chief Executive Officer
Dato' Indera Ir. Baharin is the President and Chief Executive Officer since 1st March 2021. He brings over 35 years of diversified experience within the power sector, including network planning, construction services, business development and engineering services. From 2007 to 2013, Dato' Indera Ir. Baharin served as the Managing Director of Sabah Electricity Sdn Bhd, TNB's majority-owned subsidiary overseeing power generation, distribution and supply to Sabah and Labuan. Before his most recent appointment, he was the Chief Distribution Network Officer, overseeing the largest business division in TNB. He will continue to guide TNB on its path toward the company's strategic aspiration to become a leading supplier of sustainable energy solutions in Malaysia and internationally. Dato' Indera Ir. Baharin holds a Bachelor of Science in Electrical Engineering from the University of Syracuse as well as a Master in Business Administration (MBA) from UNITEN, Malaysia/Bond University, Sydney.
Core Business
DATO' NOR AZMAN BIN MUFTI
Managing Director
TNB Power Generation Sdn. Bhd.
Dato' Nor Azman bin Mufti is the Managing Director of TNB Power Generation Sdn. Bhd. Prior to the current appointment, he was the Chief Venture Officer of Energy Ventures division, Tenaga Nasional Berhad. He has served more than 35 years, holding various Generation portfolios in TNB namely, Managing Director of Remaco and Vice President of Energy Ventures. He is responsible to lead and drive GenCo towards new growth, increased efficiencies, business synergies and greater business development.
WAN NAZMY BIN WAN MAHMOOD
Chief Distribution Network Officer
Wan Nazmy bin Wan Mahmood is the Chief Distribution Network Officer. He began his professional career with Lembaga Letrik Negara, now Tenaga Nasional Berhad in 1985 and subsequently held various positions in Tenaga Nasional Berhad. Wan Nazmy is also the Board of Directors for TNB's subsidiaries such as TNB Energy Services (TNBES), Tenaga Cable Industries (TCI), and Malaysia Transformers Manufacturing Sdn Bhd (MTM). He graduated with a Bachelor of Science at Rensselaer Polytechnic Institute, USA, and subsequently gained a Masters of Engineering (M. Eng.) at the University of Tenaga Nasional Berhad, Malaysia.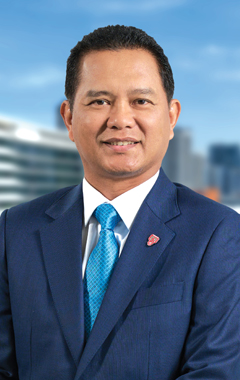 KAMAL ARIFIN BIN A. RAHMAN
Chief Retail Officer
Hj. Kamal Arifin bin A. Rahman is the Chief Retail Officer in Tenaga Nasional Berhad (TNB). Prior to the current appointment, he was the Head of Centralised Operations & Centre of Excellence in Retail Division, TNB. He has served more than 32 years, holding various portfolios in TNB namely, Special Officer in the offices of TNB Chairman and Senior Vice President before becoming the Head of State in Negeri Sembilan for 3 years. He is responsible for delivering the aspirational vision of TNB as a leading retail company of the future. His main tasks include enabling TNB's new retail business growth in the kWh core business as well as beyond Energy products and services.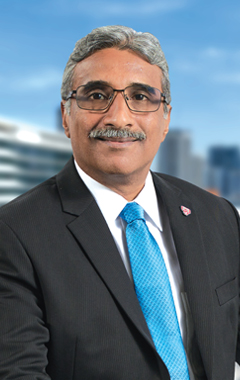 Ir. DEV ANANDAN A/L M.S. ANANDAN
Chief Grid Officer
Ir. Dev Anandan is the newly appointed Chief Grid Officer effective 1 January 2023. Amongst his roles and responsibilities are ensuring the reliability and security of electricity supply in the country through efficient and robust grid supply management. He is responsible in managing the division's assets as well as operating and maintaining the transmission network. He is also responsible in ensuring the long-term sustainable growth and profitability of the business unit through effective management of resources and operations. Grid Division is also tasked with realising the ASEAN Power Grid. He holds BSc of Electrical Engineering from Universiti Teknologi Malaysia (UTM) and Masters in Engineering Management from Universiti Tenaga Nasional (UNITEN).
Non-Core Business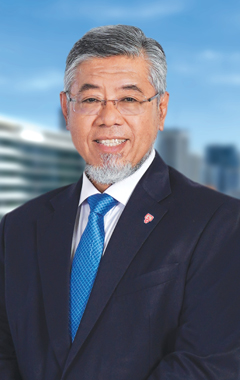 DATUK Ts. SHAMSUL BIN AHMAD
Chief Regulatory & Stakeholder Management Officer
Datuk Ts. Shamsul Bin Ahmad is responsible for shaping the industry's future and regulatory landscape while driving high stakeholders' trust towards achieving TNB's aspirational vision. He began his career at various Generation Power Plants. He has served TNB for more than 34 years with diversified experience holding numerous portfolios. Prior to this appointment, he was the Managing Director of TNB Fuel Sdn. Bhd. (TNBF). He was also the former Managing Director of TNB Janamanjung Sdn. Bhd. for 10 years. He graduated with a Bachelor of Science in Mechanical Engineering from North Carolina A&T State University, USA in 1988 and has a Master of Business Administration from Universiti Tenaga Nasional in 2006.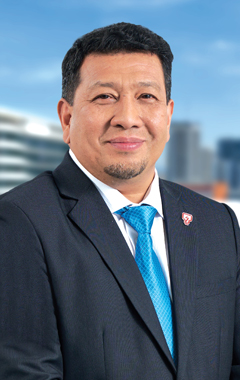 DATUK Ir. MEGAT JALALUDDIN BIN MEGAT HASSAN
Chief Strategy & Ventures Officer
As the Chief Strategy and Ventures Officer, Datuk Ir. Megat leads the development and implementation of TNB corporate and business strategy, incorporating Energy Transition trends and Environment, Social and Governance (ESG) agenda. His responsibility includes searching for, identifying and evaluating new business in energy industry and its adjacency. In addition, he guides and promotes innovation, research and development in fields relevant to TNB's current and prospective business. Previously, Datuk Ir. Megat successfully delivered quality digital customer service experience and growth of TNB Retail business as the Chief Retail Officer of TNB for 4 years. Prior to that position, he served as the Chief Strategic Officer in TNB for 6 years.
NAZMI BIN OTHMAN
Chief Financial Officer
Nazmi bin Othman holds the post of Chief Financial Officer, Group Finance in Tenaga Nasional. Some of his tasks include monitoring financial related activities to advise the CEO and Tenaga Board of Directors on key financial decisions. He leads Group Finance as an active strategic financial partner in driving Tenaga's business aspirations, and achieving Group's objectives. Besides this, he also ensures continuous improvement and review on key financial areas such as finance policies & procedures, system efficiency & processes, strategic financial risks, and staff competency.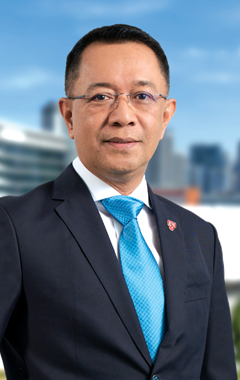 WAHIZAN BIN ABD RAHMAN
Chief People Officer, Human Resources
Wahizan bin Abd Rahman, began his professional career with Lembaga Letrik Negara (LLN), now TNB in 1987 and has served in various positions for the past 34 years. He started his career at Generation Power Plants before moving to Distribution Division in various portfolios before shifting to TNB Headquarters to continue his career in Human Resource Management. His experience in Human Resources include serving as General Manager for Human Resource Planning & Staffing, Senior General Manager for Human Resource Planning & Development and Senior General Manager for Human Resource Strategy and Transformation. Prior to his appointment as Chief People Officer, he was the Head for People Strategy & Organisation Effectiveness at Group Human Resource Division.
AMIR MAHMOD ABDULLAH
Chief Procurement Officer
Amir Mahmod Abdullah is the Chief Procurement Officer. As part of his job scope, he defines and manages the long-term group-wide procurement strategy, defines the group-wide cost reduction initiatives, role and scope of central procurement, and defines implementation of best practices. He also oversees the overall skill building and knowledge transfer program. Besides all these, he oversees relationships and negotiations with strategic suppliers and the Bumiputra vendor development program. Lastly, in terms of policies and compliance, he deals with group-wide procurement policies and monitors procurement policies and auditing of compliance.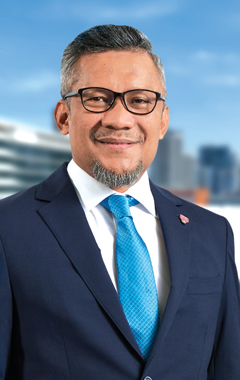 AZLAN BIN AHMAD
Chief Information Officer
As Chief Information Officer, Azlan Ahmad leads the company's nationwide IT strategy and operations, spanning throughout the IT value chain, which include IT infrastructure, application, telecommunication network and cybersecurity. He is responsible for deploying holistic, secure and sustainable technology solutions across TNB, as well as driving the corporate digitalisation agenda. He holds a BSc. in Computation (Hons) from the University of Manchester Institute of Science & Technology (UMIST), United Kingdom, and Master of Business Administration (MBA) from the International Islamic University Malaysia (IIUM), Malaysia. Azlan Ahmad is also the Board of Directors for TNB-IT Sdn. Bhd. and Allo Technology Sdn. Bhd., both wholly owned subsidiaries of TNB.
MOHD ZARIHI BIN MOHD HASHIM
Chief New Energy Officer
Prior to joining TNB, Zarihi was the Senior Director, Investment and a member of the Investment Committee at Ekuiti Nasional Berhad. His responsibilities extend across various investment lifecycles from deal origination, structuring, valuation, due diligence, operational value creation and investment exit. He was also the Vice President, Strategic Investment at Permodalan Nasional Berhad. His role was to maximise total shareholder return from key portfolio companies. He also served as the Vice President at Axiata Digital and Axiata Group. During his early career, he held various roles in management and I.T consulting with Accenture and A.T. Kearney. He was also an engineer at Motorola Semiconductor.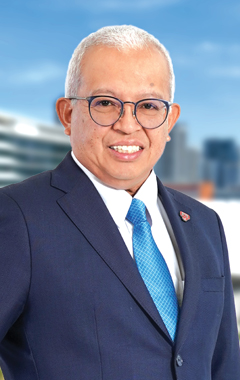 AHMAD HUSHAIRI BIN IBRAHIM
Chief Global Business Solutions Officer
Ahmad Hushairi bin Ibrahim is responsible for the provision of shared services to TNB and its subsidiaries. The shared services comprised of Service Delivery, Security Services, Properties Services, Health Care, Fleet Management, Occupational Health Safety & Environment and Corporate Affairs. The centralized provision of shared services will yield higher quality and cost effectiveness while enabling the business entities within the TNB Group to focus on their core businesses. Ahmad Hushairi aims to enhance TGBS efficiency, providing excellent customer experience and value for money services to their customers. Previously, he has held several key roles within TNB including Head (Retail Operations) and Head of Strategy for the Retail Division in his 35 years of service in TNB.
Company Secretary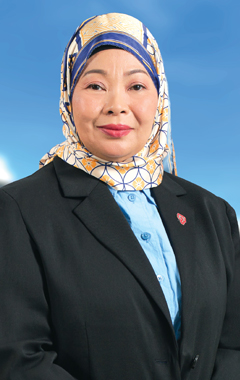 NORAZNI BINTI MOHD ISA
Company Secretary
She had more than 27 years of vast experience within TNB where she had served in various positions specifically in legal services, tender, contract management and regulatory management. She was appointed as Company Secretary since 2012. Norazni holds Master of Laws from University of Malaya and Advanced Diploma in Law from MARA Institute of Technology.