Iftar & Raya Contribution Brings Joy To 700
13/08/2013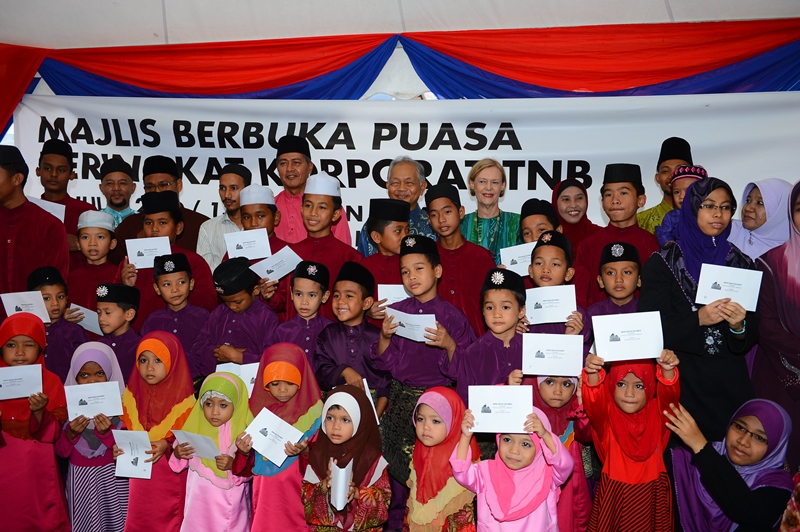 Around 700 of the less fortunate people were treated by Tenaga Nasional Berhad (TNB) with Iftar throughout the month of Ramadan, in the true spirit of increased charity in the blessed month.
These guests, comprising orphans, the physically challenged, single mothers, the impoverished and elderly, were feted in specially-held breaking of fast programs called Ihya Ramadan.
Held in all the 13 states in the Peninsula, Ihya Ramadan also brought cheer to the guests with distribution of Aidilfitri contribution - both in cash and in kind by TNB.
At the corporate level, the breaking of fast was organised on 22 July 2013 at 6.30pm, TNB headquarters in Bangsar for occupants of Pusat Jagaan Anak-anak Yatim dan Miskin Rukaiyah, Sungai Merab, Kajang and Pusat Jagaan Baitul Hidayah, Kampung Sri Puchong.
TNB Chairman, Tan Sri Leo Moggie and wife, Puan Sri Elizabeth Moggie; TNB Chief Executive Officer, Datuk Seri Ir. Azman Mohamad and wife, Datin Seri Nor Afizah Ahmad Noor, as well as TNB's Top Management were present during the function.